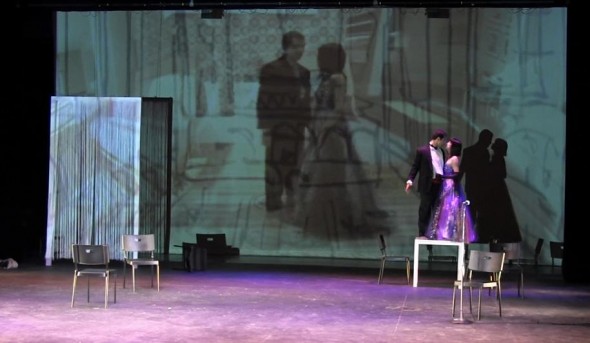 STICKY (estreno)
Teatro de la Danza
Centro Cultural del Bosque
Reforma y Campo Marte s/n
Metro Auditorio
Agosto 2012
Jueves 16/20:00 horas
Viernes 17/20:00 horas
Sábado 18/19:00 horas
Domingo 19/18:00 horas
Duración: 60 minutos aproximadamente.
No intermedio
Coreografía: Melanie Stewart (EU)
Intérpretes/Creación de Movimiento: Da·Da·Dance Project/Eun Jung Choi (Corea) y Guillermo Ortega Tanus (México)
Escenografía: Matheus Fialho Fiuza (Brazil)
Música original: Alban Bailly (Francia)
Animación: Raymond Ercoli / Liz Goldberg (EU)
Directora de Escena: Adjani Solórzano (México)
"Sticky" es un dueto dirigido por Melanie Stewart en colaboración con la compañía Da·Da·Dance Project y la Universidad de Rowan (Tech Park), Nueva Jersey, E.U.A. La
obra transita entre la realidad y el formato digital a la vez que examina la naturaleza de las uniones como en el caso de un ser humano a otro. Sticky transpasa los límites de las relaciones en imagenes y en la memoria. Lo enmielado y adherente crea múltiples capas y significados a medida que el entorno cambia. Sticky explora las interacciones y temas de pareja a través del movimiento y otros medios de comunicación incluyendo texto, música, video, cine de animación y tecnología 3-D (CAVE).
La creación de "Sticky" no sería posible sin el apoyo de Melanie Stewart Dance Theater, Universidad de Temple, Universidad de Rowan Tech Park, la Coordinación Nacional de Danza del INBA, el Fondo para la Cultura y las Artes (FONCA-CONACULTA), el fondo Cultural de Filadelfia, el Consejo de las Artes de Pensilvania y PENNPAT (Artes Escénicas de Pensilvania en gira).
---
Eun Jung teaching:
MOVEMENT LAB
Tuesday 10-12PM
Technique Classes $7
PhillyPARD (Performance Arts Research & Development)
1720 Mt.Vernon St
Philadelphia – PA 19130
ph: (215) 717-6117
Website: http://www.mt-vernondancespace.com/classes
"Movement Lab's" goal is to serve as a vehicle for dancers and movers to evaluate muscular/structural potential and limits. Through this exploration, we will find ways to move more freely and expressively. The Lab is focused on finding cognitive playfulness in a movement practice, which in turn allows us to be more dexterous and agile. This class is designed to activate our intellectual curiosity, imagination, and creativity. A self-exploratory and self-explanatory approach is the central component to this class.
There will be a set of exercises that will be taught each day. The importance in this class is not about repeating the choreography with precision. The choreography exercises simply provide structure for which we can practice moving and gather new information for ourselves and our body as we consciously move.
---